We now offer CEREC® technology for one-visit crowns and veneers!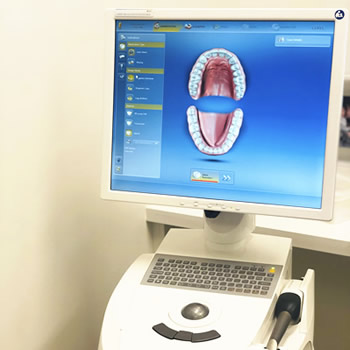 CEREC® is the latest digital 3D technology available to dentists straight from Germany. This allows dentists to provide the highest quality ceramic restorations, crowns and veneers to clients in a single visit. Avoiding and negating the need for messy 'goop' impressions as well as temporary crowns and fillings. A lot of our clients are very appreciative of this time saving procedure. Within the single visit our clients are offered a range of beverages to relax and enjoy witnessing the fabrication of their new dental work. Each bespoke ceramic piece is milled out from a high quality preformed block. There are endless options of tooth colored shades that we can chose from.
How long does it take?
Usually our visits for single CEREC® restorations take 1 hour. This is usually only 10 minutes of drilling and the rest of the time includes designing the new ceramic piece, milling, polishing, glazing, and finally bonding onto your tooth. Sometimes it is appropriate to do multiple crowns or veneers in one visit. We would then reserve an entire morning or afternoon to peacefully work on a set of multiple teeth together. As always we offer complimentary consultations to meticulously plan each treatment and appointment for you.
How much does CEREC® cost?
CEREC® restorations cost the same as traditional lab formed crowns, inlays, onlays and porcelain veneers. In our clinic Hello Dental this ranges from $600 – $1750. Our dentists will give you an exact quote once we have analyzed your clinical and radiographic examinations.
Whats the longevity of CEREC® restorations and crowns?
CEREC® restorations are a permanent, definitive treatment option. These are designed for long term performance in a functioning mouth. Because it is bonded onto natural tooth structure it can still be susceptible to decay. Therefore regular dental examination and hygiene is still necessary to maintain optimum dental health. Research shows a well designed and placed CEREC® crown can last over two decades. If you have a bruxism (tooth grinding or clenching) habit it might be worthwhile to wear a night guard to protect your teeth. Even natural teeth wear down faster with these habits.
Who is suitable for CEREC® veneers?
CEREC® veneers allow dentists to cosmetically enhance your smile with minimal or no drilling at all. This preserves the natural strength and health of your enamel and teeth. We will design a trial smile to ensure your new veneers are both complimentary to your smile and your face. We love doing cosmetic smile makeovers. CEREC allows clients who are unhappy with their natural tooth shape and size to achieve their dream smile with out sacrificing healthy tooth structure. For more elderly patients who no longer wish to explore orthodontic options, CEREC can create a smile they have always wanted but had seemingly been impossible with traditional methods.
Can I eat normally after getting a CEREC®?
CEREC® is used to mimic biological teeth. The more we recreate nature and restore ideal anatomy the healthier and more predictable our outcome can be. Each CEREC® is bonded individually. You can clean, floss, eat on your tooth after a CEREC® as per normal. A well designed CEREC® should feel comfortable from the very first fitting. There is a super accurate 3D scan that captures both jaws in your mouth. The relation between the two jaws are simulated on the computer software. It would be wise to avoid using your teeth to bite down on extremely hard items such as shells and bones. These can even crack natural teeth.
Contact our friendly team today and get that smile you have always wanted – in just a single visit with CEREC®!
Our team at Hello Dental look forward to seeing you soon.