Meet Dr Shirley Wan, B.D.S Otago
Complete Smile Care at Hello Dental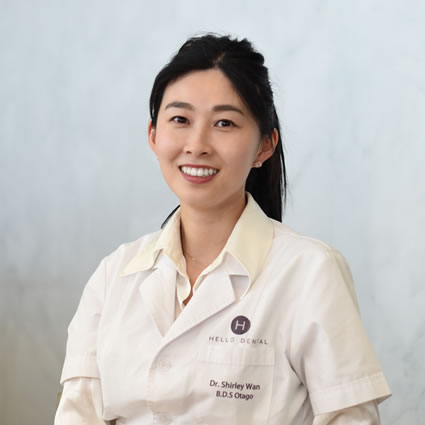 With a firm focus on family and cosmetic dentistry, Dr Wan offers attentive, friendly care to patients of all ages. Here, your entire household can find a dental team that they know and trust.
Whilst attending both national and global dental education seminars our Otago University trained professional has brought Hollywood smiles into New Zealand. Having improved hundreds of smiles through high-end cosmetic dentistry you're in safe hands. Dr. Wan specializes in designing a customized smile to complement your natural health as well as bringing out facial aesthetic beauty. Every possible detail is analyzed in detail; she loves to incorporate her clients with every step of the smile design process.
Dr. Wan has been in the dental field since 2005, she spent her time alongside a local Auckland dentist who showed her the joy and fulfillment of how being in the profession could benefit the lives and quality of life of others in her community.
My favourite part about being a dentist is the patient interaction … being able to give back to the community and help others. Every day I get to meet new people from the area and learn new things about my patients' lives as I see them throughout the years."
Training in Cosmetic Dentistry, Orthodontics and Facial Cosmetics
Dr. Wan has received the prestigious Platinum Elite Provider Status for Invisalign® for 3 years running. This is the world's premier and leading orthodontic system, allowing patients to discreetly and painlessly straighten their teeth without the wires and hooks of metal braces. This honor was presented to her for achieving huge success compared to all Invisalign® clinicians worldwide. We are one of few who have this status in Aotearoa. With her vast knowledge and experience in Orthodontics she is also competent in providing care via traditional braces. Take a look at our gallery for examples of beautiful before-and-after photographs.
Dr. Wan has transformed red carpet celebrities as well as familiar household names. Recently Miss Universe New Zealand Estelle Curd represented us on the world stage with her dazzling Invisalign® and Porcelain Veneers results. There's a reason why we are the go-to for those who want top quality care at down to earth affordable and transparent pricing.
Some younger clients and teenagers still prefer the classical metal braces due to their ease of use and familiarity from older generations who themselves have gone through the process. We work very closely with our Orthodontist specialist colleagues who assist and take care of our most complex cases.
Minimal, Gentle & Bio-mimicry Dentistry
The old adage 'Prevention is better than cure.' is a strong philosophy that we follow at Hello Dental. The core wish for our clientele is to develop a long term relationship and provide our utmost care for each individual. We take a holistic approach to health. Firstly, no metals. We are against mercury otherwise known as amalgam fillings. Heavy metals and toxins are harmful to the body. We will make a strategic plan to safely remove them from your oral environment. Restoring your dentition to mimic nature (Bio-mimicry) allows us to preserve health and provide predictable and reliable restorative outcomes over and over again.
Secondly, we take in-depth photographs to monitor progress of dental health of each tooth in a lot of detail. As the months and years pass Dr. Wan will prioritize what needs to be treated but most importantly what doesn't need to be treated. Many dentists fall into the trap of over treating teeth which can then lead to life-long pain and unnecessary dental trauma. Building up trust and connecting to our clients as they journey through various stages of life is the best way we can deliver our gentlest and most effective care.
Away From the Office
Most of her life, Dr Wan enjoyed dancing and ballet. Being a mum to two young boys, she stays busy spending time with her growing family. She and her husband are quite active in their church, where she sponsors "sisters" in developing third world countries.
If your family is looking for a gentle, attentive dentist or dental office that you can call home, contact us today to schedule your first visit with Dr Wan. We're open late and on Saturdays!

Hello Dental | (09) 217 3115